The U.S. expects Russia to fulfill obligations to Ukraine — Tillerson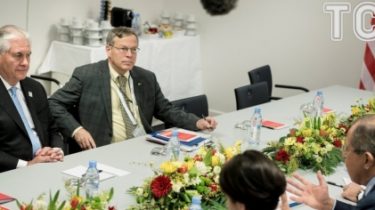 New US Secretary of state Rex Tillerson after meeting with Russian foreign Minister Sergei Lavrov said that the US is ready to cooperate with Russia, however, first expect Russia to fulfill obligations to Ukraine.
About it reports Reuters.
See also:
What is behind the words trump of Russia's seizure of Crimea: the laundering of the image or the end of sympathy
"Since we are looking for a new foothold, we expect that Russia will fulfill its obligations under the Minsk agreements and will work to de-escalation of violence in Ukraine," — said Tillerson to reporters after meeting with Lavrov.
In addition, he added that the meeting was productive, however, in addition to "the Ukrainian question", nothing else is commented.
Tillerson also said that the United States is ready to cooperate with Russia, however, in the event of a misunderstanding will follow their own interests.
Note that my comment regarding Ukraine Tillerson made two days before the meeting, "Norman Quartet" in Munich, Germany.
Recall that Lavrov said earlier that they Tillerson to discuss the situation in Eastern Ukraine and the implementation of the Minsk agreements, in particular. The Russian foreign Minister added that Russia has already started cooperation with the administration of U.S. President Donald trump.
The meeting took place amid new tensions between Russia and the United States. So, on Monday 13 February in the resignation of the trump adviser for national security, Michael Flynn due to the accusations of secret negotiations with the Russian Ambassador, as well as amid increasing military tension.
Recently, trump said that Russia seized the Crimea during the Obama presidency.
Comments
comments