Putin recognized the "DNR" and "LNR", Russia out of the Minsk process – Turchynov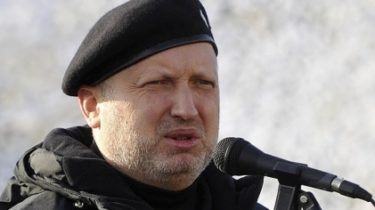 Recognition of documents issued in certain districts of Luhansk and Donetsk regions of Ukraine, not controlled by the government, is nothing other than the legalization of terrorist groups in the political sphere of the Russian Federation. Commented on the decree of the President of Russia Vladimir Putin, Secretary of national security Council and defense of Ukraine Oleksandr Turchynov.
"By signing the decree, Putin legally recognized quasi-state terrorist group that as a Fig leaf to cover for the Russian occupation of Donbass", – said Secretary of the NSDC. "This step of the Kremlin completely negates the Minsk process and equal application of Russia's withdrawal from it," – said Turchinov.
As previously reported, Russian President Vladimir Putin signed a decree on the legalization on the territory of the country of documents issued by illegitimate organizations in ORDA. In social networks already joking about it, calling the basis for the official recognition of "paspartou" so-called "DNR" and "LNR" of the present publisher – FSB Russia.
Comments
comments