On the American auction sold the phone to Hitler for nearly a quarter of a million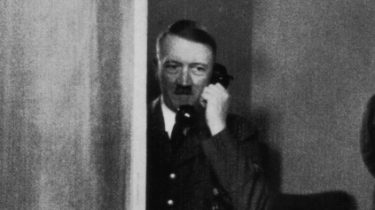 On the American auction was sold the phone, which Adolf Hitler used during world war II. Thing left lots for 243 thousand dollars. Reported by the BBC.
The name of the buyer of vintage phone is unknown.
In the red phone placed engraved with the name of the Nazi leader. Thing found in the Berlin bunker in 1945.
See also:
The representative of Ukraine at "Miss universe" was put up for auction a necklace like the Marina Poroshenko
The Soviet soldiers gave it to the British officer sir Ralph Rayner as a souvenir shortly after the surrender of Germany.
House auctions that were selling things called the phone a "weapon of mass destruction" because Hitler used it to give orders, which claimed many lives during the war.
In addition, the auction was sold a porcelain dog, which also belonged to Hitler. The figure sold for $ 24300.
We will remind, earlier the stairs from the Eiffel tower sold at auction for half a million euros. It was purchased in the buyer is from Asia, and several other sections of the stairs were in museums around the world.
Comments
comments