After Russia's recognition of passports ORDO fighters believe in diplomatic relations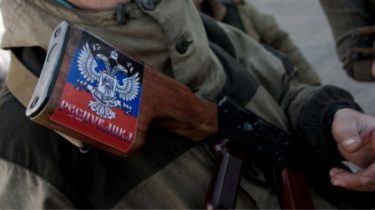 After Russia's recognition "of passports" self-proclaimed "LNR" and "DNR" in the so-called republics are expecting a sharp increase in "official relations" with the country.
This was announced on his page in Facebook MP, coordinator of group "Information resistance" Dmitry Tymchuk.
According to him, the so-called "administration" of the two republics even discuss the possibility of establishing "diplomatic relations" with Russia.
See also:
Passport coils. As in social networks ridiculed Putin legalized "documents" militants
It is also noted that in recent days has sharply increased the number of applications from the population to receive "passports LDNR". In turn, people do not want to be deprived of Ukrainian citizenship because of the prospect of losing welfare benefits.
"However, there is the appearance among the local people of rumors that after the recognition of Russian passports "LDNR", Ukraine will deprive their owners of Ukrainian citizenship (that all relevant databases with the help of hackers there are in Kiev, there is little doubt ). Such a prospect causes a negative reaction because of the presence of the citizenship of Ukraine depend on various social benefits from the Ukrainian budget", – stated in the message.
We will remind that on February 18, the second day of the Munich security conference where world leaders urged Russia to fulfill the Minsk agreements and de-escalation of the conflict in the Donbass, the press service of the Kremlin announced the signing by Vladimir Putin of the decree about recognition of the so-called "passports" ARDLA.
President Petro Poroshenko said in response that while recognizing the "passport" "DND" and "LNB", Russian President Vladimir Putin once again confirmed that the occupation of Donbass under the control of the militants-separatists, and the Kremlin directly.
Comments
comments