Blonde in a Lexus blocked the movement of trams in the city center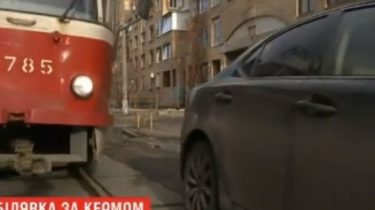 "Lexus" against trams. In the capital, at Podol car blocked the movement of public transport, because it was parked too close to the tracks, says TSN.16.45.
Drive past the expensive car, the trams did not dare, so he stopped. They had accumulated half a dozen. Enraged passengers wanted to independently move the car. But they calmed down and the police called a tow truck.
See also:
In the Donbass blocked the road in the occupied Yasinovataya
The owner of a car – blonde, appeared for half an hour and pereprobovali car. Passengers on the tram when she saw the words not picked up.
Why have grossly violated the rules and was hit with a timetable of all trams on the hem, the woman refused to explain and TSN, and patrol. Now she faces a fine of 510 hryvnias.
Comments
comments