The Prosecutor General's office summoned for interrogation "nyash-myash" Poklonskaya and "the Goblin" Aksyonov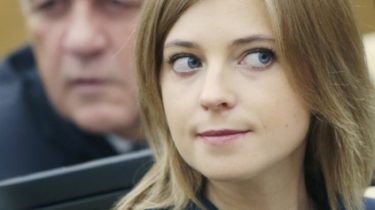 The Prosecutor General's office of Ukraine is of "Prime Minister" of the occupied Crimea Sergey Aksenov and the former "attorney Crimea" Natalia Poklonsky on 27 February in Kiev for questioning.
The agenda appeared on the website of the GPU.
Poklonsky and Aksyonov with a group of other Crimean "officials", among them former "Chairman of the state Council" Crimea Vladimir Konstantinov, called "for the delivery of a notice of change previously reported suspicions about the new suspicion and investigation".
See also:
"Nyash-myash" Poklonskaya and henchmen "the Goblin" Aksyonov. Who went to the state Duma of the Russian Federation from the occupied ARC
We will remind that earlier the Prosecutor's office has opened against the"nyash-myash" Poklonskaya the case of high treason. The sanction of article provides imprisonment for the term from twelve up to fifteen years.
Comments
comments