Turchinov said that the APU can completely liberate the Donbass for a month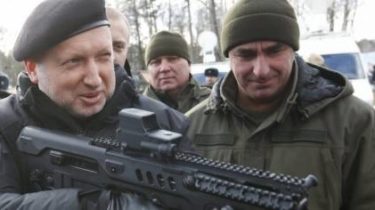 NSDC Secretary Oleksandr Turchynov said that Ukraine will win Russia in hybrid war in the Donbas.
According to security forces, Ukrainians are "doomed to win", but the military forces must be supported by the economy.
"A strong army is impossible without a strong economy. So today one of our priorities is building our economic capacity that is directly related to the defense potential. Strong Ukrainian economy, and, consequently, improvement of living standards of Ukrainians, the most important factors required for liberation of occupied territories of Donbass and Crimea", – quoted Turchynov press service of the NSDC.
See also:
Losses of militants near Avdeevka caused hysteria among their leaders – Turchynov
Secretary of the national security Council believes that fighting in the area Svetlodarsk arc and near Avdeevka showed that the Ukrainian army is stronger than the troops of the Russian Federation.
"Enough month to completely liberate the territory of Donbas," Turchynov said in an interview Цензор.net.
However, in his opinion, in the event of such a liberation operation is not known how many of their divisions put up against Ukraine, Russia.
"When I count the forces and means for conducting offensive operations, you need to clearly understand how much effort and resources from your enemy. We are constantly monitoring their actions: daily delivery of equipment, weapons, mercenaries and contractors. But all these numerous well-armed units that are in the occupied Donbas, the main task: in the case of our attack to hold off for a few days until the main forces of the Russian army", – he explained.
We will remind, earlier the Secretary of Council of national security and defense of Ukraine Oleksandr Turchynov said that in recent years, Russia has intensified the transfer to the occupied territory of Donbass military equipment, weapons and soldiers.
In the NSDC said that the military equipment, weapons, ammunition, equipment and lubricants are imported in an organized and planned almost every day "like roads and Railways.
Comments
comments