Fires, congestion, and limited bandwidth: what you need to know about Shulyavska overpass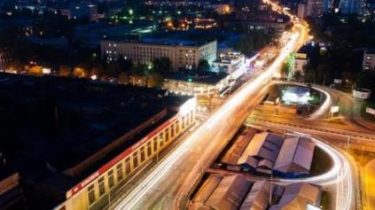 On 27 February in Kiev collapsed part of the Shulyavska overpass. The collapse touched one car which stood under the bridge. Among men there were no injuries.
Dnia gathered facts about the famous Kiev overpass.
History
The project Shulyavska overpass was built in 1960 by the engineers. N. Stepanov and I. M. Kanevskiy, architect A. V. Ilyashenko and others. Constructed in 1964.
Pre-alarm and congestion
Length Shulyavska overpass is 295 m, width – from 14 to 21 meters. One transportation as of yet in 2015 passed less than 13 thousand cars per hour and was in a derelict state. The overpass was congested and require capacity expansion.
Fire damage
September 24, 2006 on the trading floor, located under the bridge, there was a fire. In the aftermath, burned clothing and footwear on an area of 500 square meters, was also significantly damaged the supports of the overpass. April 23, 2007 at the flea market, which was under the bridge, again the fire started. As a result, the viaduct was severely damaged, he lost 30% of carrying capacity.
See also:
Shuliavska bridge joined the garbage blockade: nick reacted to Bendigo in Kiev
Recall that in the fall of 2015, it was reported that the Department of planning and architecture develops the project of reconstruction Shulyavska overpass.
As noted in the Department according to technical specification, "Kievsoyuzdorproekt" must draft a three-level interchange with the reverse distribution ring, which will take into account the needs of cyclists, and pedestrian and traffic flows are completely separated at different levels.
Comments
comments