He's tired. Klitschko called the preliminary cause of the collapse Shulyavska overpass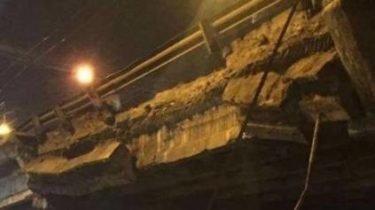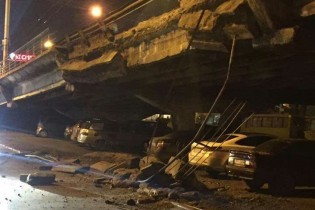 By Tuesday morning, February 28, should be the examination conclusions regarding the condition Shulyavska overpass, part of which collapsed on Monday evening. This was stated by the mayor of Kiev Vitali Klitschko.
"Until the morning must be forensic conclusions, on the present state of the bridge", he wrote in his Facebook.
At the same time, as reported by channel 112, Klitschko said that the collapse of the overpass was not considered an emergency, however, was violated rules of operation.
"Emergency, he was not recognized. He was tired of time with one hand. On the other is what was violated rules of operation, under the bridge stood Mafy, where there was a fire. This is a consequence of violations of the rules of operation," – said the mayor.
Reportedly, the collapse hurt one car which stood under the bridge. Among men there were no injuries. Under the bridge still standing cars, congestion.
Shulyavska overpass collapsed. Motion by Getman in the direction of Petrovka blocked just behind an Industrial bridge pic.twitter.com/6k522cqQt8
— Avto Kiev (@auto_kiev) February 27, 2017
At the Shulyavska overpass now dismantle the exterior design of the pedestrian portion that collapsed pic.twitter.com/USw3xhK3Hd
— Oksana Zinovieva (@zin0ksana) February 27, 2017
Comments
comments