Parasyuk reported the assault of aunts under Tureckom, injured party blockade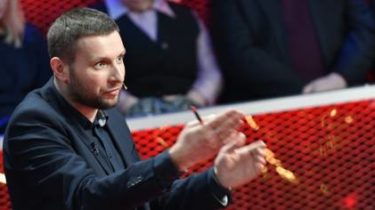 The people's Deputy Vladimir Parasyuk reported the storming of the redoubt in the village Scherbynivka that nearby Turecka Donetsk region.
According to him, many aunts arms. About the MP wrote on his page in Facebook.
See also:
Semenchenko said that the blockade of storm titushky "gangs Akhmetov"
"16 now storming the redoubt. Many titulni with weapons. Village Scherbynivka that Terezka. Anyone who can pull for help", — stated in the message.
Then he added that one of the participants of the blockade was stabbed.
At the headquarters of the blockade of trade with the occupied Donbass, in turn, said that the first two attempts to storm were able to repel.
"The first two attempts to assault were repulsed, aunts moved and blocked the approaches and entrances to the redoubt. Work together with the so-called police. Managed to avoid the use of firearms. Judging by the actions of the police, to force the garrison of the redoubt to use firearms in self-defense, obviously, was the main task of the Director of this provocation", — said in the Headquarters.
According to "the blockade", the majority of the aunts have signs of military training, but their identity is not yet established. Add that to the aunts comes help.
"One of the defenders of the redoubt was stabbed and is now hospitalized. Non-life-threatening", — reported in the Headquarters.
We will remind, the previous evening, 28 February, the headquarters of the blockade of Donbass zhas Avil of withdrawal from the negotiating process with Prime Minister of Ukraine. So, activists are outraged by the statements of the militants and the Kremlin regarding the blockade on Donbass and their ultimategame.
Comments
comments