Lyashko again declared millionaire, forks and a new house Rosita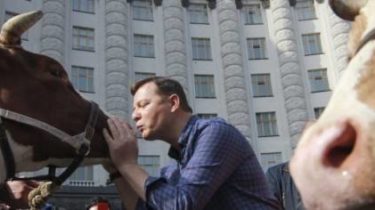 MP and leader of the Radical party Oleg Lyashko submitted an electronic Declaration of their income in 2016. Pointed out that he lived only on salary, interest from deposits and money accumulated before. And they had almost 27 million, if all the currency in cash and transfer deposits in the hryvnia.
Real ESTATE
In the Lyashko – two private apartments in Kiev for 367,2 sq. m of 95.5 sq. m, Parking place of 23.6 per sq m, office on kt 182.8 sq m, six plots of land in the City of Brovary district of Kyiv region.
His common-law wife Rosita Sairanen – country house on 296 sqm and six acres of land.
Lyashko rents part of the dwelling house on 75,4 sqm, non-residential premises on 123,8 sq. m plot of 0.12 hectares in Kozin Obukhov district of Kyiv region. In this village also live the President of Ukraine Petro Poroshenko in his own manor and MP and the leader of "Batkivshchyna" Yulia Tymoshenko in a rental.
VALUABLE PERSONAL PROPERTY
Lyashko in the last 20 years collecting collectible coins from Nickel silver, silver and gold, who released a national Bank. Also pointed out that there is five coins of silver and gold of foreign origin.
Another MP declared pitchfork peasant, putting them in the section where the property is worth more than 100 living wage – more than 154 thousand UAH.
Liashko also declared four expensive watches Vacheron Constantin, Ulysse Nardin, Breguet, Audemars Piguet, trainer – treadmill, exercise bike, Italian furniture for kitchens and bedrooms.
In the Rosita – a lot of precious jewelry.
TRANSPORT
Lyashko is Toyota Land Cruiser 2004 release, while Rosita drives a Mazda CX-5 2014 release.
CORPORATE LAW
The MP is the owner of 33.33% shares of JSC "Edition of newspaper "Politika".
INCOME
Last year Lyashko received 156 120 thousand UAH of a salary, an average of 13 thousand UAH per month. Yet Parliament has allocated almost UAH 170 thousand for vedennja parliamentary activities.
From the Deposit in the Bank "arcade" Lyashko was 223 thousand UAH per cent. Another 123 thousand UAH – from the Deposit percent in the "savings Bank".
Received a gift in kind from Love Pavlovna Lyashko 137 thousand UAH.
Another source of income – fees and other payments in accordance with the civil prvacina: "news 24 hours" has paid him almost 219 thousand UAH.
MONEY
Lyashko keeps the money on Deposit in three banks: in "Oshchadbank" – almost 391 UAH thousand and 700 thousand dollars in "Arcade" – 1 million 933 thousand UAH, in "PrivatBank" – 5 thousand UAH. Cash, the MP holds 30 thousand, 70 thousand euros and 400 thousand UAH.
At Rosita all the money only in cash: 500 thousand, 30 thousand and 20 thousand Euro. The Declaration States that last year it took 60 thousand dollars. Most likely, the money went for the purchase of the above country houses on 296 sqm in Kiev. It Rosita acquired in early August 2016. However, the cost is not specified in the document.
Also on the website Dnia you can see the declarations of the President of Ukraine Petro Poroshenko, Prime Minister Volodymyr Groysman, head of the national Bank Valeria Gontareva, the mayor of Kiev Vitali Klitschko.
Comments
comments