The largest in the European Parliament, the party adopted a resolution regarding the "Marshall plan" for Ukraine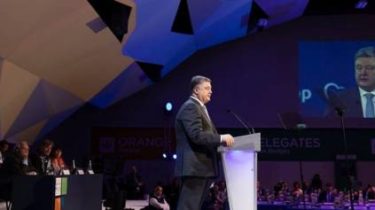 The largest in the European Parliament European people's party approved a resolution on the development of a long-term plan to support Ukraine, the so-called "Marshall plan" for Ukraine.
About this on his page in Facebook said the President of Ukraine Petro Poroshenko, who attended the EPP Congress in Malta.
"This Resolution is proof of the resolve of the most influential political family of Europe in support of our state on the path of reforms and aspiration to do everything possible to help Ukraine realize its European aspirations and to achieve compliance with the Copenhagen criteria for EU membership under article 49 of the Treaty on European Union. In other words, the European people's party acknowledged the European perspective of Ukraine and prepared in a specific way to help us achieve this strategic goal", – said the President.
Poroshenko added that "looking" looks forward to further steps of European partners in the creation of the "Marshall plan" for Ukraine.
Recall that in 2014, Lithuania initiated at the EU level discussion on the six-year financial assistance to Ukraine in the amount of 30 billion euros. The relevant resolution was passed committees on foreign and European Affairs of the Lithuanian Parliament.
The document says that Lithuania proposes to revise the EU budget 2014-2020 so that now under the budget of 1,000 billion euros to allocate up to 3% for the implementation of a new "Marshall plan" for Ukraine, and thus form a tool of financial assistance to Ukraine, which would have reached 30 billion euros.
Comments
comments