Insults and AK-47: the Donbas unknown staged a shooting near OSCE observers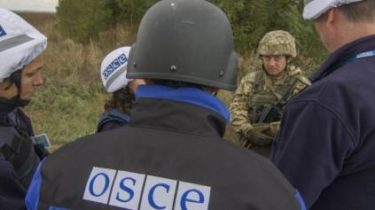 In the Donetsk region near sahanki armed man opened fire near observers special monitoring mission of the OSCE.
On it informs a press-service of the organization on his page in Facebook.
2 APR patrol mission, which consisted of six people and two vehicles, was at a distance of 50 meters from the Central street of the controlled group "DNR" Sahanki in the Parking lot non-residential buildings.
"Around 13:00 car (Lada cars with Ukrainian license plates) with three men in military-type clothing slowed in front of non-residential building, 50 meters from observers. Then the driver opened the window, all the passengers began loudly shouting insults in Russian. The driver then took the gun (AK-47)… and through the open window, aimed up into the air and fired two shots, without stopping the car", – is spoken in the message on the social network.
The observers were able to leave the scene of the incident, but later the same car they recorded in the village of Bezimenne.
See also:
"Over their heads whizzed a bullet": the OSCE observers came under fire in the ATO
In the end, observers have safely arrived at the base in Mariupol.
We will remind that earlier the militants "DNR" opened fire near a patrol of the OSCE representatives in the Cossack.
The incident occurred March 28 at 11 a.m., when the six employees of the organization in two armoured vehicles drove up to the complex, located on the Eastern edge of the village Cossack who occupied "DNR".
Comments
comments