Putin and Lukashenko will discuss "economic differences" on gas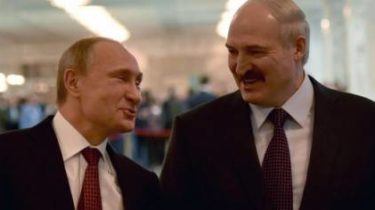 Russian President Vladimir Putin with President of Belarus Alexander Lukashenko will discuss bilateral relations, including disputes in the economic sphere gas.
About it reports "Interfax".
The conflict between Moscow and Minsk has arisen because of differences in the approaches of the determination of prices for Russian gas. Since the beginning of last year, the Belarusian consumers were underpaid for the Russian gas company "Gazprom transgaz Belarus" (a total for the year has accumulated approximately $ 550 million – ed), referring to the possibility of calculating the prices are not contractual formula, and the price of gas in Europe, which fell heavily at the moment.
In response Russia began to supply Belarus with oil at a reduced schedule.
Putin and Lukashenko are expected to discuss the prospects of further promotion of integration processes in the Eurasian space and some topical international and regional problems.
See also:
"Crimean scenario" for Belarus 20 years preparing Lukashenko himself
We will remind that the President of Belarus Alexander Lukashenko called Russian leader Vladimir Putin "a brother".
In particular, Lukashenko has refused to involve mediators for talks with Putin.
"I hate middlemen. Because they are around Belarus, as I'm the President, so many go – peacekeepers, mediators, with the EU, but with someone else. Yes we are not brokers let's deal with the EU, with other States and so on. Today about Russia saying that there need intermediaries between Putin and Lukashenko. Yes, calm down – we with Vladimir Vladimirovich Putin brilliant relationship. Brilliant…We are brothers, we have nothing to share," – said Lukashenko.
The President of Belarus added that they "pick up" time and will hold a meeting.
"I told him once publicly said – maybe there will be a time when you have back to back to stand and shoot, well, as military people say," – said Lukashenko.
We will remind, earlier the President of Belarus Alexander Lukashenko during his big press conference told journalists about one of his conversations with his Russian counterpart Vladimir Putin.
"I call Putin, they say, here Dmitry came and gives me an earful! Volodya, don't ruin my night. And all this Bucha of some 500 million! What is 500 million! Before the borders came," – said Lukashenko.
Comments
comments