Russia continues to dismember Ukraine: McCain urged to stop the Russian intervention in the Affairs of other countries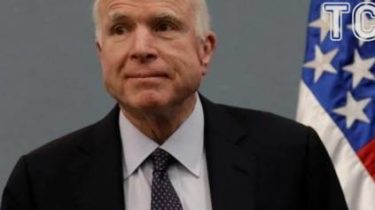 Attempts to investigate the interference of Russia in the U.S. presidential election, when team President Donald trump with the Kremlin, to establish the motives and methods of the Russians and to find a way to counter the tactics of the Russian Federation applies around the world, called for the head of the U.S. Senate Committee on Affairs of armed forces John McCain.
Reported by ABC News.
"We need to know what needs to be done to prevent such activities, they continue to lead in free countries around the world," – said U.S. Senator.
According to him, the investigation, which is ongoing in the United States, should examine all aspects of the situation, including "priorities of the President trump".
McCain is convinced that Russia's intervention in international Affairs around the world are virtually without consequences.
"They are success for themselves continue to dismember the Ukraine; they have succeeded in creating a significant impact in the middle East never had before; they have successfully intervened in our elections, and we know that they continue to do the same in the electoral processes in France and in other places. And still they suffered or minor, or even not punished for all this," protested Republican Senator.
See also:
"KGB-style". McCain called the killing Boronenkov brazen act of state terrorism Russia
He also expressed confidence in the team on issues of national security in the new administration trump and concluded that the American President would be wise to listen to them.
We will remind that earlier American Republican Senator John McCain explained the intensification of the conflict in the Donbas that Russia is now facing the administration of U.S. President Donald trump.
"Russians kill Ukrainians every day. They kill them. I believe that the situation is getting worse, because this time to test the administration's trump," said McCain.
Comments
comments