Trilete Groisman. The main indicators and the nuances of the new plan of development of Ukraine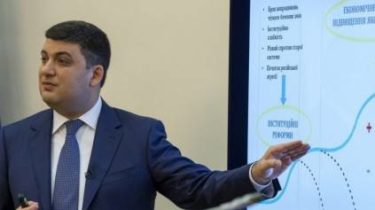 Ukraine expects sustainable economic development – GDP will grow annually by 4-5%. And yet – there will be a lot of reforms, especially in economy, energy, education, healthcare, and defense.
This is stated in the "Medium-term plan of priority actions of the government until 2020", which today, April 3, Cabinet approved at its meeting.
In particular, Ukraine should get a new economic model, which will differ from commodity-type economy. Planned to carry out land reform (to allow the sale of agricultural land), modernization of the energy system (until 2020 will try to follow the gas produced domestically and not to buy it abroad), to carry out reforms in the courts, education, healthcare, and the reform of the pension system (the next higher pay can be held in October 2017).
"We need to create a strong competitive economy, sustainable growth of 4-5 percent of GDP a year, we should move from a commodity economy. We spent the last year analyzing how you can go to the production of products with high added value… More – effective public service, developing human capital," said Prime Minister Vladimir Groisman, was quoted by UNIAN.
Among the priorities – the holding of large-scale privatization of state enterprises.
"Our task today is a public sale, which will attract billions of dollars in the economy. Of those billions will be annually paid taxes in budgets of all levels, including the Pension Fund. This will give the opportunity to update all of the funds, to bring to Ukraine new technologies, create new jobs and to start a serious, accelerated economic growth," – said Groisman.
Regarding land reform, the Prime Minister promised a surprise.
"The fact that offered by the government, will be a huge surprise for pseudogregoryceras and populists. We will offer a great model for the turnover of land – attention! – not in the interests of major holdings, foreign investors, and in the interests of the Ukrainian citizen. These three criteria will be present in the reform which we propose. It is only in the interests of the owners-Ukrainians – owners of the land", – said Groisman.
Good governance, the government plans to implement due to the introduction of modern IT technologies, as well as the implementation of the new law on civil service and reform of public Finance management.
According to the rule of law, the Cabinet will support the work of anti-corruption bodies, will contribute to the protection of property rights and judicial reform.
In the defence sector, the Cabinet intends to develop the National guard, to bring the bodies of the Ministry of internal Affairs to the European standards, to liberate the occupied territories and reintegrate them into the Ukraine.
The government action plan must be approved by the Verkhovna Rada.
We will remind, eks-the Minister of Finance Natalia Yaresko told about his plan of action if she were appointed Prime Minister.
Comments
comments