Fighters under the control of Russian mercenaries are strengthening their positions near debaltseve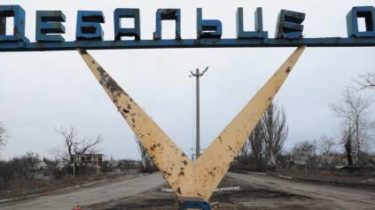 In the Northern area of Debaltsevo and the village of Debaltseve, the militants continue active engineering works for the upgrading of their positions.
It is reported by the coordinator of group "Information resistance" Dmitry Tymchuk.
It is noted that in this area unfolds a whole network of platoon and strongholds of militants.
See also:
Fewer residents "LDNR" wishing to "passport" – Tymchuk
"In the course of the work applied for 5-7 units per day (mostly "civilian" excavators, bulldozers and dump trucks, but fixed and 1 unit of PZM-2). Also in this area occupants updating minefields and put up a new one. The operation is constantly controlled by a number of Russian "advisors", – stated in the message.
In addition, active work on upgrading of positions held by fighters near the village of Bold in Luhansk region. Also in this area was recorded by increasing the grouping of forces and means of the enemy.
"Between the former BP No. 32 and a monument to the battalion commander observed the transfer of 2 units of 120-mm mortars and 1 unit ZU-23-2 (in the direction of the settlement Sentyanovka (ex. Frunze), 2 KAMAZ with manpower, 2 units of BMP-1 – Bold", – Tymchuk added.
According to him, for the formations and units of the "1 St of AK DNR" and "2nd AK LC" weapons and military equipment, as well as fuel and lubricants from the territory of the Russian Federation in "LDNR" during the week, delivered 17 units of armored fighting vehicles (mainly BMP -1,2), 6 wagons with ammunition and artillery, 25 tanks of fuel total mass of approximately 1 249 tons.
We will remind, the Kremlin has found a way to "write off" thousands of pieces of equipment and millions of ammunition, sent to the Donbass: a considerable portion of these arms and ammunition have already disposed or scheduled for "disposal". According to tymchuk, the defense Ministry planned supermystery disposal of weapons.
Comments
comments