Korczak urged the Parliament to organize an international audit NACP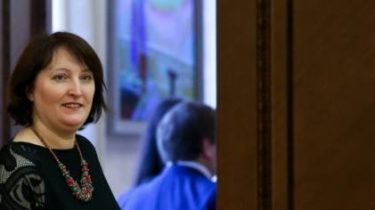 The Chairman of the National Agency for prevention of corruption Natalia Korchak urged the Parliament to organize an international audit led by the anticorruption body. Appeal to the deputies was sent April 3, wrote to Korczak in Facebook.
"Understanding the public outcry that arose recently around the individual activities of the National Agency, it became clear that the only expert opinion concerning our activities will be able to prove the groundlessness of all charges against our body," – said the head of the NACP.
See also:
Members of the NACP are trying to dismiss Korczak. Document
Natalia Korchak considers that an independent external evaluation of the effectiveness of the functioning of the NACP and registry operations, e-declarations to be given by the Commission which it proposes to include people's deputies of Ukraine, international experts, representatives of civil society institutions, as well as domestic experts in the field of prevention of corruption. She also wants to involve representatives of the embassies and representative offices of the European Union in Ukraine.
"It is convinced: the findings of independent international audit your acceptance of any changes to the Law in the part of the NACP will be premature and short-sighted. It is likely that such actions may put the Agency in direct dependence on those organs and structures that today are not interested in our activity", – wrote Natalia Korchak.
The national Agency has been widely criticized as inappropriate operation of the registry for declarations that at the end of the deadline for reporting was not working for several days. On the eve of the deadline, April 1, when should be registered with all the electronic declarations of officials, the system again failed. Prime Minister of Ukraine Volodymyr Groysman called on the head of the NACP Natalia Korchak and other members of the Agency to resign, in turn, Korczak declared that is not going to resign.
The leadership of the NACP invited to report in the Verkhovna Rada.
Comments
comments