Ukraine urged the UN security Council to act because of the brutality of Assad, not to talk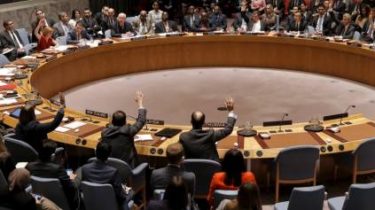 The UN Security Council must move from eloquent discussions to take decisive action that will put an end to the use of chemical weapons in Syriaby adopting a resolution that provides for such action.
This was stated during a meeting of the UN security Council on the situation in Syria, permanent representative of Ukraine to the United Nations Volodymyr Yelchenko, writes UKRINFORM.
"Striking is the absence of concrete actions and only increases the gap between words and actions," – said the representative of Ukraine. According to him, gervi who suffered from himataki are loud and clear Wake-up call for the entire international community.
"The terrible price paid by civilians in Idlib, because the Council was unable to agree on a programme of destruction of chemical weapons in Syria," – said the Ukrainian diplomat.
"The Council must act "decisively and without any delay," – said Yelchenko.
Therefore, Ukraine supports the draft resolution submitted by the United States, Britain and France, as a document which introduces a specific action. He expressed hope that this important document will be adopted at the meeting of the UN security Council.
"It's the least we can do to ensure that the attack on Idlib is not ignored," he said Yelchenko.
See also:
Lavrov mass murder by sarin gas in the Syrian Idlib called the fake
We will remind, in the UN security Council submitted a draft resolution on the chemical attack in Syria. United Kingdom, United States and France circulated to the members of the UN Security Council a draft resolution of the incident with chemical weapons in the Syrian province of Idlib.
The Commission of inquiry of the UN on Syria launched an investigation into the chemical attack on the Syrian town of Khan Shaykhun in Idlib and reports about the attack on the clinic, where he provided assistance to victims. It is noted that the use of chemical weapons and the deliberate attacks on medical facilities will be equated to the military.
Comments
comments