In the Parliament called to oppose the restoration of Shokin for post of Prosecutor General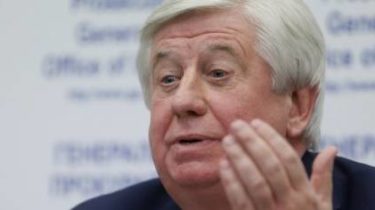 The Verkhovna Rada urged to oppose Viktor Shokin in court. We are talking about the claim of ex-Prosecutor General, which will be examined by the Supreme administrative court. In it, Viktor Shokin said that he was allegedly illegally dismissed, according to a story TSN.19.30.
Shokin complains that he has long put pressure on the representatives of the Administration. They, according to him, allegedly bought MPs to vote for the resignation. Besides, eks-the public Prosecutor argues that the Parliament has violated the procedure, making it a pensioner.
In the Verkhovna Rada are called the allegations nonsense and an attempt to block the work of the GPU. The people's Deputy Vitaliy kupriy turned to the speaker and parliamentarians to prevent the return of ex-Prosecutor General in the chair.
"He accuses us that we are criminals, although it seems to me, all there was to it. We, as those who voted for his dismissal, have the right to appeal to intervene in this case. And if the court will restore him – to make serious allegations," says kupriy.
See also:
Shokin on the return of HCP Who does not want to be a General?
We will remind, the former Prosecutor General of Ukraine Viktor Shokin trying through the courts to recover the position. The claim he filed to the Supreme administrative court.
It is noted that the claim was March 13, 2017, evidenced by the statement on the website of the court. The matter should be considered by the panel of judges, the presiding judge – Valentin Moroz.
Chief specialist of the press service of the court Galina Gaevskaya told the publication that the hearing is scheduled for 10 April 2017 15:30.
Comments
comments