"The state Duma" refused to check the facts from the film Bulk status Medvedev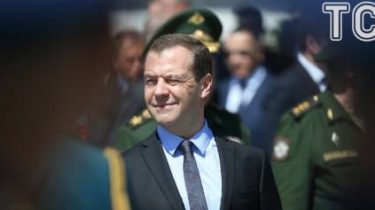 Deputies of the "Duma" rejected the draft Protocol Commission on the review of information from investigations of the Fund of struggle against corruption of assets, associated with Prime Minister Dmitry Medvedev.
About it reports "Interfax".
The majority of deputies did not participate in the vote; for the order voted 43 against — two.
The draft order proposed to instruct the state Duma Committee on safety to request law enforcement and registration agencies information to verify reports of investigations of FBK.
Depending on the results of the inspection were asked to prosecute or people mentioned in the investigation, or its sponsors.
See also:
Medvedev in a month responded to a scandalous story about his exorbitant wealth
Recall that in accordance with the investigation of the Fund of struggle against corruption opposition leader Alexei Navalny, on the "charity" money from Russian oligarchs, Medvedev bought the family estate and agro Mansurova, the mountain residence of the Psehako in Sochi, vineyards in Anapa and Tuscany, a Villa in Milowka and Rublevsky residence, the cost of which is estimated at about 5 billion rubles.
After the publication of the results of the investigation in different cities of Russia swept unauthorized anti-corruption, media reports, meetings. Was hottest in Moscow — security forces have used against people with tear gas and power. However, there were cases of use of force by and against police officers.
These culminated in the detention of Navalny, he was given 15 days for an administrative offense. It was detained all employees of the Fund Navalny. They all stayed after the protests the night at the police station. The office of the FBC unknown took out all the equipment.
Detained protesters and a simple, even juvenile. According to OVD-info, detained over 1,000 people. Meanwhile, Network users began to complain that the Central Russian TV channels are silent about the protests. However, later reports about the protests appeared on the propaganda channel "Russia-1".
Comments
comments