"No reverse gear". Yatsenyuk responded to the rumors about his appointment is Gontareva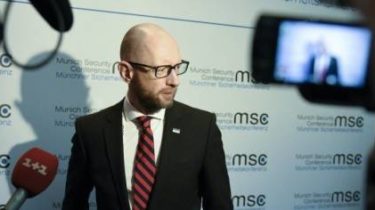 The head of the popular front and former Prime Minister of Ukraine Arseniy Yatsenyuk commented on his possible appointment to the post of head of the National Bank, instead of Valeria Gontareva.
He stated this on the sidelines of the 10-th Kyiv security Forum, reports Еспресо.TV.
Yatsenyuk stressed that the head of the national Bank can only be the person who is not a politician.
"I clearly say that I'm not the Chairman of the National Bank of Ukraine. The second reason is I already ran the national Bank, and my reverse gear in my gearbox is not" – he stressed.
The politician reminded that in 2004 he was the acting head of the NBU did not provide any political power.
That's because, in his opinion, the regulator was able to make the right decisions, who do not allow the national currency to fall and destroy the banking system.
See also:
Gontareva going to resign, but later – an official statement of the national Bank
Recall that in an interview Gontareva said that the fully completed its task, and new positions not yet thinks, because he wants to relax. Therefore, according to her, when the time comes to leave the office, she will take rest, which will spend with the family. Speaking about his successor, Gontareva expressed confidence that it would be "truly worthy nominee… – professional, banker, technocrat, not a politician." She added that she had offered the President several candidates, but did not name who it was.
Today, April 6, morning, the activists of the "National body" ("Azov") came to the estate Gontareva, painted her fence and demanded to ban the work of Russian banks in Ukraine. The question will be to resign Gontareva, she gave an affirmative answer. The press service of the NBU said that the will submit a statement to the police on the organizers of this event. Also said that the police to call in the estate Gontareva did not come.
Comments
comments