In the Donetsk region caught scout "DNR", which has been hidden in Russia and the militants fired at Pisky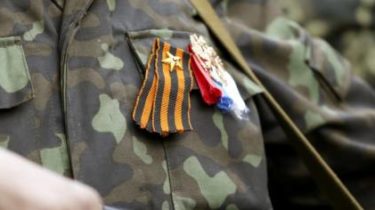 Police officers together with SBU detained the man, who in 2014 took part in illegal armed formations, and then disappeared in Russia, where he received Russian citizenship.
About it reports a press-service of the Channel.
It is noted that after returning to the Donbass, the man with the militants fired at the village of Sands, and then was infiltrated by the secret services on the territory controlled by Ukraine, to conduct reconnaissance.
"In the spring of 2014 resident Toretsky born in 1986 joined the ranks of the terrorists who seized the building of the former Executive Committee. First, along with other locals, he patrolled the streets of the city. Last time you went on patrol with a gun during the illegal "referendum". In late may, the man went to Russia, where, using the program simplified acquisition of citizenship, became a citizen of the Russian Federation with the statement on the military account", – stated in the message.
See also:
In the Donetsk region detained the gunman, who fled the "DPR" and disappeared at the grandmother
Until January 2017, the man worked as a laborer in Moscow, and, not receiving proper wages, decided to resign and return to Ukraine. After spending about 2 weeks at home and unable to find work, a man from Russia went to the occupied Donetsk, where he entered service under the contract in armed groups "DNR", a mechanized battalion to the position of the thrower. The positions of his unit were in the area of the village sand of Donetsk region.
In the course of communication with his friends, he received offers to earn more money and return to controlled territory to collect information on the location and movement of manpower and equipment, APU, and also to recruit local residents.
For this he was offered a substantial sum of money. They had to do to a Bank card, which he had to open immediately upon arrival in Thoracic.
At the end of March this year the man returned to conduct intelligence activities and was detained by police.
We will remind, in Mariupol girl-the officer detained the fighter of the fugitive "DND" Horlivka. So, the man was "police" in occupied Gorlovka. "Served" in Gorlovka city Department in the subdivision "children of Donbass", he performed the duties for the idea. However, according to the fighter, he was disappointed after his eyes had killed his friend over suspicion in assistance to the Ukrainian troops.
Comments
comments