"Military training" militants ended in gunfire and slaughter have killed and wounded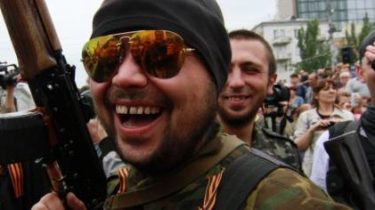 In Donbass militants carried out the so-called "military service charges," which ended with losses.
It is reported by the Main Department of intelligence of the Ministry of defense of Ukraine.
It is noted that the holding of these "fees" military service 1 (Donetsk) AK territorial army Centre (Nottingham) South IN the armed forces near the town of Shahtarsk was only propaganda to demonstrate the presence of a significant resource mobilization in the so-called people's militia.
See also:
Groisman spoke about the number of militants and Russian mercenaries in the Donbas
"Training sessions with the participants was conducted. Field kitchens and food had been deployed only for a very small percent of the involved citizens. The issuance of weapons was conducted only in front of the cameras to the Russian media a few dozens of participants of the Assembly with the subsequent return of outside cameras. The participants did not receive any skills during the "fees", – stated in the message.
In turn, attracting a large number of officers 1 AK to ensure the holding of mobilization fees" resulted in the loss of control over personnel and the increase in gross violation of military discipline .
See also:
In the Donbass region in an accident killed the Russian Marines commander militants – Hur
In particular, in 3 separate infantry brigade (Gorlovka) in a shootout between the two units killed two and wounded three soldiers. And in 9 separate assault infantry regiment of the marine corps (Novoazovsk) during the consumption of alcoholic beverages, a quarrel arose between the soldiers, which developed into a fight using knives. As a result, one militant was killed and two more wounded.
We will remind, earlier on Donbass in violation of military discipline on their own mines exploded Russian mercenaries. According to scouts, in recent years, the number of non-combat losses and serious violations of military discipline, which lead to the deaths of civilians is increasing.
Comments
comments