Terrible news and a shock: Poroshenko, Groisman and Klimkin expressed condolences to Sweden because of the terrorist attack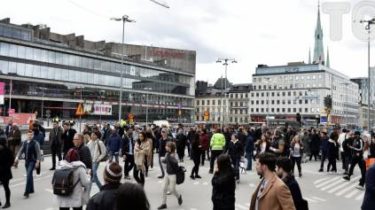 President Petro Poroshenko said that he was shocked by a terrorist attack in Sweden, which happened on April 7.
"Shocked by terrorist attack in Sweden. Deep condolences to the friendly Swedish people, the families of the victims in Stockholm", – he wrote on his Twitter page.
Prime Minister Volodymyr Groysman called the "terrible news" what happened in Sweden, and recalled that Ukraine every day to fight terrorism in the East.
See also:
The Stockholm police showed photos of alleged terrorists that the truck entered the men
"Terrible news from Sweden. In Stockholm hurt innocent people. According to preliminary estimates by the Swedish authorities – probably talking about the terrorist act. We know what terrorism is – every day fight against terrorism in the East of Ukraine. Sorry Sweden, the families of the victims", – Groysman wrote in Facebook.
The Minister of foreign Affairs of Ukraine Pavlo Klimkin expressed condolences to the families of victims of the terrorist attack.
"My thoughts are with the families and friends of the victims of the terrorist attack in Central Stockholm. We, along with the Swedes today," wrote the Minister.
See also:
Appeared first video, taken after the terrorist attack in Stockholm
We will remind, on April 7 in the evening a truck ran into pedestrians in Central Stockholm. The incident killed three people and eight injured. Subsequently the car crashed into a shop window and got stuck. At the place of work medics, rescuers and police. People from the town centre evacuated. In addition, completely closed the subway.
It was reported that the suspect in the attack were detained, but police denied this information.
Comments
comments