The three-year Gontareva as the head of the national Bank: most iconic figures and facts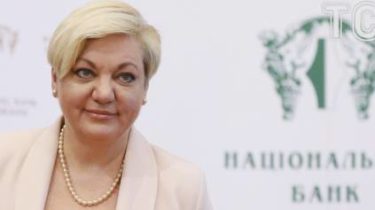 The head of the national Bank of Ukraine Valeria Gontareva 10 APR 2017 said he will resign exactly a month later – on may 10, and submitted to President Petro Poroshenko. Calculates the acceleration process, if the Verkhovna Rada will consider the issue early.
Dnia collection of the most interesting facts and figures describing the activity Gontareva the head of the national Bank.
Early in his career, the NBU Gontareva said that Ukraine will no longer be a fixed exchange rate of the hryvnia. And fulfilled the promise. Under her tenure the official dollar exchange rate grew by 2.3 times – from 11.84 UAH per day of her appointment on 19 June 2014 to 26.97 UAH on the day of her resignation.
The salary of the head of the national Bank increased by 16 times – from UAH 10 thousand to 163 thousand UAH per month.
NBU for three years, cleared the market from 89 banks – unchanged at 91. Gontareva stated that the era of "zombie"banks in Ukraine ended. Also nationalized the largest Bank in the country – "PrivatBank", which was one of the agreements with the IMF.
In 2014, when the blow came, the NBU, the regulator has issued 222 billion of refinancing loans. At the beginning of 2015, the amount of debt banks to the NBU amounted to 109 billion. At the beginning of 2017, the debt of solvent banks decreased to 22,99 billion. At the same time insolvent banks, the NBU needs 45.2 billion UAH.
The reform of the national Bank as one of the most successful reforms in Ukraine. In the structure of the NBU strongly renewed staff, the state has reduced by 50% – to 5.3 thousand employees. Gontareva said that the state should be reduced to three times – up to 1.8 thousand workers.
Comments
comments