Couldn't handle the pressure or is preparing to escape. How politicians reacted to the resignation of Gontareva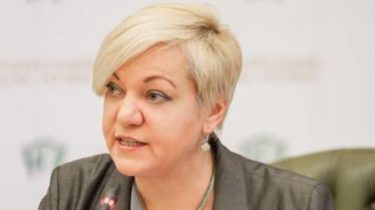 The results of the work of Valeriya Gontareva to the post of head of the National Bank to evaluate policy in different ways, depending on the political power that belongs to the commentator, says the story TSN.19:30.
"One of the best bankers in the world" according to Petro Poroshenko, is retiring. The President's representative in the Verkhovna Rada and the leader of the presidential faction in turns to pick a word that would most aptly describe the achievements of Valeriya Gontareva to the post.
"The national Bank has done a brilliant job," says Arthur Gerasimov.
"The work of Valeriya Gontareva to the post is considered to be our party, coalition, President… Impeccable!", – says Irina Lutsenko.
The advantages of the head of the national Bank in the PPB include the purification of the banking sector, control of the hryvnia and cooperation with the International monetary Fund.
However, the coalition partners of the popular front, spoke of Gontareva – betwixt.
"There are different opinions of our MPs, but I'm sure that job is to clean up the banking system were made enormous. Maybe there were mistakes," – said the leader of the faction Maxim Bourbaki.
Comments
comments