Step to gender: the Parliament approved the introduction of the draft Labour code anti-discrimination rules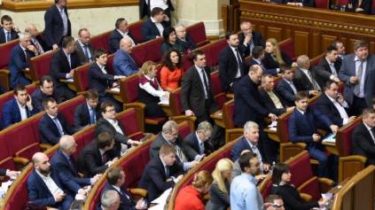 The Verkhovna Rada Committee on social policy, employment and pension benefits into account during the preparation of the draft Labour code to the second reading the term "gender identity" in the provision on prohibition of discrimination in employment on the basis of sexual orientation and gender identity.
Write about this Ukrainian Novyny.
Voted for 4 of the 7 members of the Committee.
In connection with the proposed edit, prohibits any discrimination in employment, in particular direct or indirect restriction of the rights of employees according to race, sex, political, religious and other belief, sexual orientation and gender identity, age, health status, suspicion or presence of HIV/AIDS, family and property status, place of residence, participation in the strike of the appeal or intention to appeal to the court or other authorities for protection of their rights, linguistic or other grounds not related to the nature of the work or the conditions of its implementation. This rule in this office is the implementation of Ukraine's commitments to the European Union, in particular, for the liberalization of the visa regime.
This Committee's decision provoked a strong reaction among those present, saying it is unconstitutional. In the end, the Committee ended up shouting "Shame."
Recall, November 5, 2015 Rada adopted in first reading the new wording of the Labour code. But Parliament refused to accept the amendment in this project, which forbids the discrimination of employees on grounds of sexual orientation and gender identity. In this Parliament made the appropriate changes to the Code of labour laws, and pledged to introduce it during the adoption of the revised Labour code.
Recall, the Verkhovna Rada of Ukraine in the second reading considers several zakonu aimed at ending discrimination against women. In particular, changes in the Labour code and the law on prevention of domestic violence.
See also:
The MPs brought the Ukrainian anti-discrimination rules to the European
Comments
comments