In Kiev want to create a corruption scheme associated with the dismantling of advertising experts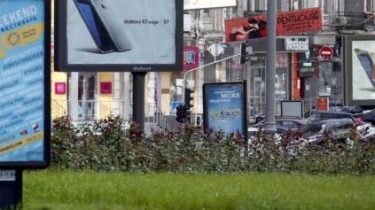 In Kiev want to create a corruption scheme associated with the dismantling of the advertising, which fully to release the city is simply not possible.
This is stated in the program Money.
The former Deputy chief architect of Kyiv Viktor Gleba noted that last year the advertising business paid to the budget of 197 million UAH.
However, Kiev officials decided to abandon the money in the city budget and no longer issue permits for outdoor advertising, and the old shields are dismantled.
"For the first quarter of 2017 were issued about 200 orders for the takedown. Orders without deadlines, and you can go just a specific operator who is not loyal to dismantle", – says the Executive Director of the Association of outdoor advertising of Kiev Maxim Chalenko.
It is reported that the entrepreneurs have developed their concept, in which advertisers are willing at their own expense to remove the terrible billboards and make the streets free from excessive hype. The concept provides for a reduction of advertising structures 74% in these parts of the city, like Khreschatik. But city officials are ignoring other people's projects, and its not make.
See also:
In Kiev unknown gangster has dealt with the utilities, who dismantled illegal advertising
"Why the government does not listen to the proposals of the business? Only one conclusion – they give birth to their beneficiaries. I think that would be the "Megapolis" that it will be other people gepy DOPA, which already work in Kharkov," – said Gleb.
In turn, in Kharkov once "liberated" the city from advertising under the slogan "everything for tourists," but then all of the advertising structure passed to the company "Megapolis Plus", the Ukrainian daughter of the controversial campaign, which is close to both old and new authorities with that have Russian owners.
"But it's not just monopoly. This whole corruption scheme. This is a diagram of enrichment of officials. And every time they will do it. First, you just get one, and then they'll cut him and will have others who will give more, and no more budget, and more in the pocket of the embezzler of public funds", – said the people's Deputy Vitaliy kupriy.
Experts explain – officials just want a good to line their own pockets.
"Why is it done? In order to make the entrepreneur to come and to bring a bribe. That is, if you here us dash – we won't dismantle," – says kupriy.
We will remind, in Kiev metro plans to reduce the amount of advertising and open a gift shop. now actively developing a new procedure for advertising in the metro in April to vote. It provides a dramatic reduction in the number of ads in the metro.
Comments
comments