Militants kidnapped Ukrainian judge on the outskirts of Donetsk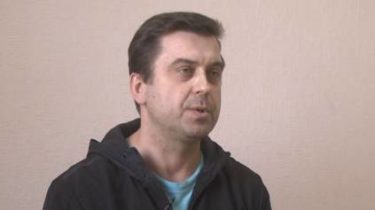 Near the occupied Donetsk, gunmen kidnapped a judge of the Donetsk appeal court Edward Kaznacheeva.
Reported by Raisa Khanova – the head of the Donetsk court of appeal, which is now in Kramatorsk.
The man took a vacation and was to return on March 28 but did not show up for work.
"When I called his wife she told me that her husband was taken from the house. How did this happen? He Marinka parents live, he went to them, and it's a house on the junction already Marinka and Petrovsky district of Donetsk, Petrovsky had a house left, probably went to visit, I think it was a tip, someone told him, we're probably there as trophies," leads to "Gromadska" a quote Hanaway.
The court found out that a colleague fell into the hands of militants, only 7 APR.
A day earlier on the Youtube channel of the so-called "MIA DNR" there was a video called "Confessions of defectors". It featured three men — two of precinct inspector of the Donetsk police, who allegedly say that he worked in the national police of Ukraine, and the third man — treasurers. He says: "It's absurd. We had to negotiate and find common ground".
In the court of utverjdayut that the terrorists weren't even from which to mount dirt.
"I saw this video, I think he said so, that wasn't even what to mount some dirt, torn there's three phrases. It was checked for treason, then for espionage, as far as I know, he is in the detention center, his wife said that like he was not beaten," added khans.
She went to the police of Donetsk and now they have opened proceedings into the disappearance of a person. Also, the judge asked the representative of Ukraine in the humanitarian sub-group for talks in Minsk, Irina Herashchenko, to facilitate the exchange or return Kaznacheeva.
"We're all immigrants, the court moved from Donetsk technical workers and even cleaners. And now neither one of us will go home to Donetsk for the holidays to family graves to visit," added the President of the court.
Earlier, first Deputy Chairman of the Verkhovna Rada Iryna Gerashchenko said that in the occupied Donbas , the number of Ukrainian hostages has increased to 118 people.
Comments
comments