Rhetorical device: in the Department of state explained the matter to Tillerson to the G7 Ministers about the meaning of support for Ukraine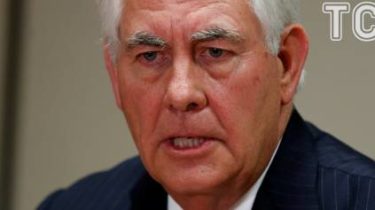 State Department spokesman Robert Hammond called the question of U.S. Secretary of state in the G7 Rex Tillerson on why us taxpayers should support Ukraine "rhetorical technique".
It is reported Bloomberg.
They say, in fact, Tillerson said that the US and Europe should not lift sanctions against Russia.
"The question certainly would have made any European officials fear that President Donald trump can ease the sanctions and allow the former Soviet state back into the orbit of influence of Russia, even as tension with Moscow grows", – the newspaper writes.
U.S. Secretary of state Rex Tillerson at the meeting of the foreign Ministers of the group of seven most developed countries have asked European colleagues, why the American voters need to worry about the conflict in Ukraine. This was announced by the Minister of foreign Affairs of France Jean-Marc Ayrault.
See also:
U.S. Secretary of state Tillerson first arrived in Moscow
Note that immediately after the meeting of foreign Ministers of the G7 Tillerson flew to Moscow.
Earlier, Tillerson convinced Poroshenko in the absence of a batch agreement with Russia regarding Ukraine.
Comments
comments