The militants of the "nationalized" branch of "Ukrzaliznytsia" in the Luhansk region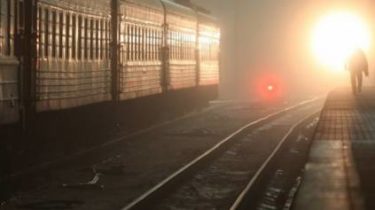 The so-called Council of Ministers of the terrorist "LPR" instructed one of the companies to take the management of the Luhansk regional branch of the Directorate of railroads of "Ukrzaliznytsya".
About этоv "Luganskoe information center" reported "the acting Minister of infrastructure and transport" terrorist "LNR" Vladimir Gerasimchuk.
Such a decision the rebels adopted "for the purpose of sustenance and preservation of the property of the legal entity-non-resident, ensure the preservation of jobs and timely payment of wages".
So now a company called "Luhansk railway" to perform the functions and duties of the Supreme body of management of the branch of "Ukrzaliznytsia".
Gerasimchuki noted that to take such action, "LC" forced railway blockade.
""There is a blockade from the Ukrainian bandits – band Semenchenko, parasiuk and the company. Earlier "Ukrzaliznytsya" provide an uninterrupted supply to Ukraine coal that our miners have mined the hardest difficulty. Workers worked at the enterprise "Ukrzaliznytsya". And when the gangs blocked the way, organized chaos, the so-called "ukropatrioty" forgot that there are still people. And thus the people were deprived of jobs," – said pseudocolonic.
See also:
Groysman is confident in the return of the "nationalized" enterprises of Donbass and compensation from Russia
We will remind, the Ukrainian enterprises that are in the area of responsibility of the so-called "Ministry of industry and trade of the NPT," has passed under external management. This was stated by the leader of "DNR" Zakharchenko.
Later, in "DNR" submitted a list of Ukrainian enterprises, which are located on the natkonal areas where we have introduced the so-called "temporary administration" of the separatists. The list appeared on the website of the so-called Council of Ministers "DNR". In the list were 43 enterprises.
Comments
comments