Trump called for an end to the war in Syria and to defeat the terrorists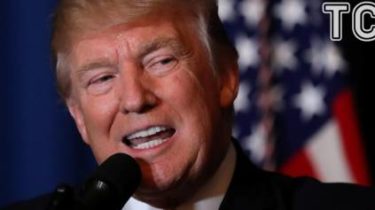 The US President Donald trump called as soon as possible to stop the war in Syria.
About it writes "Radio Freedom".
"It's time to end this brutal civil war, to defeat the terrorists and to allow the refugees to return home," said the us President.
He also thanked the allies for their support of the US position on Syria and urged them to work together to "overcome the catastrophe" in the country.
"The horrible killing of innocent civilians with chemical weapons, including the barbaric murders of helpless children and babies, must be resolutely rejected every country that values human life," concluded trump.
See also:
Changing attitudes trump to Russia was a sharp blow for geopolitics – The New York Times
We will remind that the President of the United States Donald trump said Wednesday that NATO is not outdated, what he said during the election campaign. But he, as before, believes that NATO members should pay a fair fee.
The US President thanked NATO for support of its decision to launch a missile attack on Syrian air base in response to a chemical attack in Idlib, and said that it is time to put an end to the civil war in Syria.
We will remind, us destroyers USS Porter and USS Ross night of April 7 was released 59 missiles on the airfield Syrian government forces Shirt. In the result , six people were killed, said the Ministry of defense of Syria. The operation was conducted in response to a chemical attack the Syrian government on 4 April in the town of Khan shaykhun, in which killed and injured hundreds of innocent Syrians, including women and children.
The head of the United States Donald trump called on "all civilized Nations" to join the United Statesto end the conflict in Syria. He said that Washington must "contain and prevent the spread and use of deadly chemical weapons," which, according to him, no doubt using the Syrian authorities.
In turn, U.S. Secretary Rex Tillerson said that Russia was unable to fulfill its obligations 2013 to protect Syria from chemical weapons. According to him, Russia is complicit, or just "incompetent" because it fails to comply with the agreement on disposal of chemical weapons in the country.
The head of the Russian Federation Vladimir Putin stated that the attack violates international law.
Comments
comments