Trump doubts that Russia did not know about the use of chemical weapons in Syria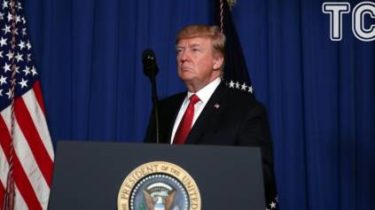 The President of the United States Donald trump doubts that the leader of Syria Bashar al-Assad could have used chemical weapons without the knowledge of the Russians.
About it writes UKRINFORM.
Now there is an investigation on this issue. According to trump, a great team at the Pentagon working on it.
"I would like to believe that they (the Russians – ed.) didn't know about it (preparing a chemical attack by the Assad regime – ed.), but they surely knew they were there," said trump.
See also:
The failure of Russia made it possible chemical attack in Syria – Tillerson
Recall that U.S. Secretary of state Rex Tillerson said that Syria used bombs with chlorine and other chemical weapons more than 50 times.
As you know, April 4, in the Syrian town of Khan Sheyhun, in the province of Idlib, was a gas attack: among the dozens of the dead are children. According to the latest figures, killed about 100 people, including many children, about 500 of the affected.
In the Russian defense Ministry said that the chemical attack in Syria in Khan Sheyhun arose because of a gas leak in the warehouses of the Syrian rebels after they were fired by the aircraft of the Syrian government.
In response to hnatko the United States made an airstrike on an air base in Syria.
Health Minister Recep Akdag stated that the examination proved the use of sarin gas chemical attack.
But the White house has accused Russia of concealing the involvement of the Syrian government of Bashar al-Assad in committing the chemical attack.
Comments
comments