GPU summoned the Minister of revenue and duties of times of Yanukovych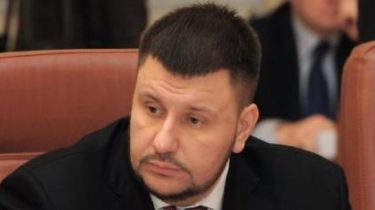 The General Prosecutor of Ukraine was summoned for questioning of the Minister of incomes and fees of times Yanukovych of Oleksandr Klymenko.
Summons ex-Minister posted on the website of the Prosecutor General.
Klimenko obliged to appear in the second investigative Department of the investigative Department of the Main military Prosecutor's office for Antonovich, 114, Friday, April 21, at 10.00.
Alexander Klimenko wanted for questioning as a suspect.
See also:
A quick Klimenko from Russia organizes "political" teleconference with the Ukrainian citizens
We will remind, the Military office of public Prosecutor has withdrawn from the court of the petition to hold a special judicial investigation against the former Minister Oleksandr Klymenko, because of the need to "eliminate" some technical shortcomings.
Klimenko charged with participation in an organized criminal organization, the Commission in its composition the most serious crimes against state property, crimes of average and small weight in the sphere of economic and service activities that caused serious consequences in the form of material damage to the state of $ 3.1 billion UAH, that is in especially large sizes.
February 9, Kyiv court of Appeal allowed the in absentia arrest of ex-Minister of income and fees Alexander Klimenko.
Comments
comments