USA will never recognize the illegal annexation of Crimea – Poroshenko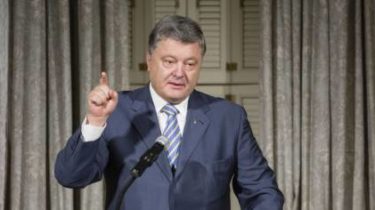 President Petro Poroshenko during an official visit to the United Kingdom of great Britain and Northern Ireland in interview to TV channel Sky News said that the United States will never recognize the illegal annexation of Crimea.
About it reported in a press-service of the President of Ukraine.
"Never had a doubt that no American President, including Donald trump, will never recognize the illegal annexation of the Crimea", – said the head of state.
He also recalled the Budapest Memorandum, the United States, Britain, France and Russia guaranteed the territorial integrity, sovereignty and independence of Ukraine.
See also:
"A real hot war". Poroshenko said that in the Donbass no frozen conflict
Poroshenko added that for a long time, both American parties – Democrats and Republicans – to support Ukraine.
"There is no doubt that the status of a global leader who is the United States, it is impossible to maintain without a clear position on Ukraine," – said Poroshenko.
The head of state noted that he had several telephone conversations with President Donald trump, meeting with Vice-President Mike Pence, effective conversation with the Secretary of state Rex Tillerson.
"Have a clear position: nothing about Ukraine without Ukraine. That was my message at the Munich conference, and we have received support from partners," – said Poroshenko.
We will remind, on April 19 the international court of justice agreed to introduce preventive measures against the Russian Federation for the protection of national minorities in the Crimea at the suit of Ukraine.
In its decision, the Court of justice ordered Russia to refrain from the restrictions of the Crimean Tatars for representation of own interests, including the resumption of the activities of the Majlis and to provide updates of the education in Ukrainian.
In addition, the court imposed on both parties the obligation to avoid violations of the Convention on the prevention of all forms of racial discrimination.
Comments
comments