Vasu refused to consider the claim Shokin to reinstate him to the post of Prosecutor General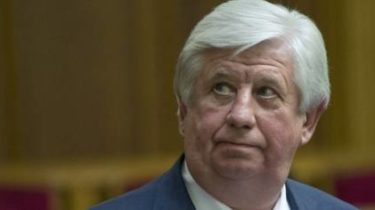 The Supreme administrative court of Ukraine refused to consider the claim of the Victor on resuming the post of the Prosecutor General of Ukraine.
About it reports the UNIAN.
Also at the court session the lawyer of ex-attorney-General Vladislav Maksimov explained why he decided taxes a lawsuit in the Supreme administrative court. So, according to the lawyer, people's Deputy Oleksandr Onishchenko Shokin told about the alleged bribery of MPs during the adoption of the resolution Parliament about adoption of a resolution of the Parliament on the resolution on the dismissal of Shokin.
In addition, Maximov asked the court to declare the reasons for missing one month of filing a claim and recover this time.
"In December 2016, the plaintiff has reviewed public statements of people's Deputy Onishchenko bribery of people's deputies of Ukraine. Including to influence their vote of dismissal by plaintiff (Shokin – Ed.)", he said.
"In July 2017, the plaintiff learned that during the voting for the approval of his dismissal at the meeting hall of the Verkhovna Rada occurred cases "pressing buttons", – said the lawyer.
So, according to him, 15 and 27 February 2017 Shokin received the official information that directly or indirectly confirms the existence of irregularities during the vote regarding his dismissal. In particular, alleged during the vote for his dismissal were enrolled votes of MPs who are not physically present during the plenary session. In addition, Shokin allegedly received information about possible bribery of MPs during the voting.
In turn, representatives of the defendants statement Shokin denied and asked the court to reject ex-Prosecutor General renewal of the claim terms, since it is not a valid reason.
"The attitude of the plaintiff who claims the reinstatement of the public Prosecutor, the statements of MP, which is located outside of Ukraine and with respect to which all courts have decided the question on satisfaction of the possibility of criminal prosecution, detention or arrest is questionable", – said the representative of the Verkhovna Rada.
"We have no official documents, except for any mythical statements that Alexander Onishchenko as MP says something," said he.
We will note, ex-Prosecutor General Viktor Shokin demanded to cancel the decision of Parliament on the resolution on his dismissal from the post of Prosecutor General and the corresponding presidential decree, and restore it in post.
Earlier, the Supreme administrative court summoned the President of Ukraine Petro Poroshenko for questioning in the case of the dismissal of the Prosecutor General of Ukraine Viktor Shokin.
Comments
comments