NABOO said, when Martynenko will elect a measure of restraint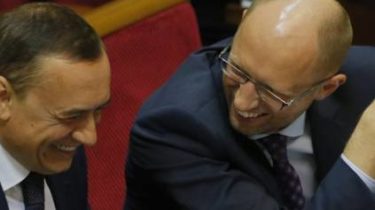 The Solomensky district court of Kiev today, April 21, at 15:00 will start to consider the request of prosecutors Specialized anti-corruption Prosecutor about election of a measure of restraint to the former Deputy of the Verkhovna Rada Mykola Martynenko, said NABU.
We will remind, on April 20, the detectives NAB arrested former people's Deputy from "popular front" Mykola Martynenko. He is suspected of creating a criminal grouping and the assignment of property by abuse of official position. Martynenko faces a penalty of imprisonment from 8 to 12 years.
According to investigators, in 2013-2016 Martynenko, using official position, had any involvement in the creation of a criminal group that embezzled public funds. SE "Eastern mining and processing plant" signed a contract with the intermediary company controlled by the former MP, for the supply of uranium concentrate at inflated prices. In the NEB noted that as a result of this transaction the state was damaged by 17.28 million US dollars.
Mykola Martynenko said that the charges against him was fabricated at the direction of the Director of NABU Artem Sytnik. "This case is political and not supported by any evidence," he said.
Martynenko reminded that refused the mandate in 2015, "to NABOO checked false accusations against me, which terajoules for money."
"I'm not hiding, was in Ukraine and gave all indications. However, the Director of NABU Sytnik decided propiaritsya. He wants to shift attention from the failures of NABOO and their political involvement", – he said.
Comments
comments