The worsening in ATO area: for the day killed two Ukrainian soldiers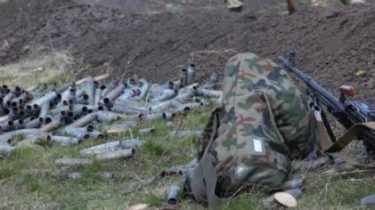 Over the past day units of fighters 47 times opened fire towards the Ukrainian military.
It is reported by the ATO headquarters.
It is noted that the most difficult was the situation at the Donetsk direction: fire from tanks, mortars 120-mm and 82-mm grenade launchers of various systems and heavy machine guns, the militants fired at the plant.
See also:
"A real hot war". Poroshenko said that in the Donbass no frozen conflict
At positions near the mine "Butovka" they used tanks, 82-mm mortars, grenade launchers and heavy machine guns.
In Vernotico and Lugansk fired 82-millimeter mortars, APCS and machine guns of large calibers.
Strongholds of Ukrainian troops near Kamyanka and Zaytsevy and Sand the militants fired anti-tank grenade launchers and heavy machine guns. Positions in the areas of Maori and Novgorod was fired from grenade launchers, and the Trinity – from machine guns and small arms.
In the seaside area with mortars caliber 82 mm and grenade launchers terrorists fired near Marinka and Krasnogorovka. The Ukrainian military in Shirokino and Water fired from infantry fighting vehicles and rocket launchers of various systems.
The positions of the Marines under Talakovka and Pavlopol the militants fired anti-tank grenade launchers and large-caliber machine guns and strong points in the area of Novohryhorivka – machine-guns of large calibers. Close to Lebedinsky and Water intensified snipers.
On Lugansk direction militants used mortars caliber 82-mm automatic grenade launchers in the area Katerinovka. In Novozvanivka fired rocket-propelled grenades and heavy machine guns, and in Bottom – from automatic grenade launchers.
For the last two Ukrainian soldiers were killed and another eight soldiers were wounded. Earlier in the headquarters of ATO reported that the victims were killed at Avdeevka.
Comments
comments