Case Martynenko. What you need to know about high-profile court hearing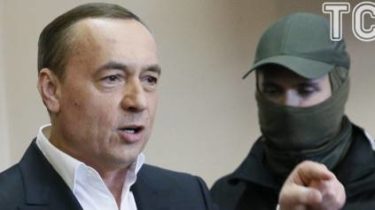 The former people's Deputy Mykola Martynenko after two sleepless nights in detention a preventive measure – personal guarantee of people's deputies and Ministers.
As reported in the story TSN.19:30, a suspicion of a crime the former MP was handed over on Thursday evening. Then it became known that Martynenko suspected of involvement in the theft of $ 17 million of state enterprise "Eastern mining and processing plant", which bought the uranium through an intermediary at an inflated price, say in NABOO.
"He provided all these links. We the result, we can prove it. We do not charge until the case in court – we now suspect. And now the role it is proved by the materials produced. Actually the fact that a certain amount of funds was transferred to the training of his children, rental houses, apartments for him in Europe," – said the head of the Specialized anti-corruption prosecutors Nazar Golodnitsky.
For Martynenko prosecutors asked or detention, or bail in the form of 300 million hryvnia. In so much of NABOO assess the likely harm from his actions. Himself Martynenko was called the accusations false. According to him, he deliberately resigned in 2015 to defend their case in court in another case.
See also:
The court released the defendant in the case Martynenko Fracture on bail of people's deputies
Before the start of the meeting to remand the suspect and his lawyers argued – did not procrastinate, will not use the hospital blankets and a quick. The meeting was really short. It started on Friday at 18:00. Automatic distribution of judges for consideration by the elected judge Alexander Bobrivnyk, who judged the chief fiscal of the Roman Nasirov. The defenders before meeting stated that the system will choose the judge. They insisted that it is not a coincidence and asked for the disqualification of Bobrivnyk. Prosecutors opposed because of alleged evidence tampering with distribution system of the judges, the lawyers failed. Ultimately, the court refused to find a replacement.
Today's meeting started without delay. The hall was attended by a large number of MPs of the party Martynenko. They requested the release of the ex-MP on bail and told about the politically motivated case.
In turn, NABU pressure throw MPs, because they say, prosecutors threatened jail, and the judge reminded him of the fate of Rodion Kireeva. Nazar Golodnitsky, who arrived at the court in hall did not even stopped.
For what Martynenko will not escape is to go in for questioning, will meet as much as 15 MPs. The suspect asked to surrender their passports and forbidden to communicate with any person involved in the case. Ex-MP promises to carry out all the items.
Prosecutors intend to appeal the judge's decision. On remand, Martynenko will stay until June 20. During this time, prosecutors shall complete the investigation and forward the case to the court.
Alexander Romaniuk
Comments
comments