The court chose a measure of restraint for Martynenko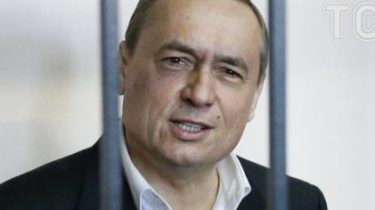 The Solomensky court of Kiev chose a measure of restraint for ex-the Deputy Nikolay Martynenko, who is suspected of involvement in the schemes of embezzlement of state enterprise "VostGOK" by 17.28 million dollars.
"Apply to Martynenko, the measure of restraint in the form of personal surety," the judge read out the decision and announced the list of the names of MPs, while rejecting the request of prosecutors.
In particular, among them the people's deputies from "popular front" Pynzenyk, birch, Teeruk, the Minister of youth and sports Zhdanov.
See also:
In NABU, and the popular front accused each other of putting pressure on judges
Martynenka released from custody.
The judge also ordered Martynenko to inform the court about the change of residence, be on the call for investigation, to refrain from communicating with a number of individuals appearing in the materials of suspicion and hand over all the documents to travel abroad.
After the decision Martynenko thanked all guarantors and stressed once again that is not going to run from Ukraine.
A consequence of the NEB determined that these funds are spent including for rental property in the EU for the needs of family members of suspects, the payment of medical services and the services of lawyers for the protection Martynenko in another criminal case against him was opened by the Prosecutor's office of Switzerland. On the acquisition of uranium concentrate, the company Steuermann, controlled by Martynenko, Navarro 17,28 million dollars.
See also:
Holodnitsky said the punishment Martynenko, and called the second person involved in his case
We will remind, on April 20, detectives NABOO and SAP prosecutors arrested two people —former Deputy Mykola Martynenko and his accomplice on suspicion of forming a criminal organization and of misappropriation and embezzlement of property per SE "VostGOK" damages in the amount of 17.28 million dollars. The detainee it is reported about suspicion. Now the issue of election of a measure of restraint.
According to investigators, in 2013-2016 Martynenko, using official position, had any involvement in the creation of a criminal group that embezzled public funds. SE "Eastern mining and processing plant" signed a contract with the intermediary company controlled by the former MP, for the supply of uranium concentrate at inflated prices. In the NEB noted that as a result of this transaction the state was damaged by 17.28 million US dollars.
Mykola Martynenko said that the charges against him was fabricated at the direction of the Director of NABU Artem Sytnik.
"This case is political and not supported by any evidence," he said.
Specialized anti-corruption Prosecutor's office wanted to take Martynenko in custody for 60 days, with the alternative of Deposit of 300 million hryvnia.
Comments
comments