Fantasy Thriller Zakharchenko: "DNR" wants to coexist with Ukraine in the framework of the Confederation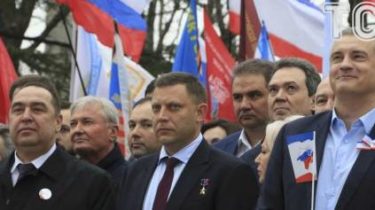 The leader of fighters "DNR" Alexander Zakharchenko declared that is ready to negotiate with Kiev on the coexistence of "on the confederal basis."
He said this in an interview with Russian newspaper "Izvestia".
See also:
Zakharchenko called Yanukovych and Azarov traitors and offered to deny them entry in the "DNR"
"Federalization we were ready to talk with Kiev in the spring of 2014 before Kiev began to shoot us with tanks, guns and warplanes. Now we are ready to hold a dialogue with Ukraine only on the basis of equality, as an independent state. The people of Donbass will never abandon their conquest of freedom and independence, because they produced great suffering and a lot of blood," – said Zakharchenko.
"Maybe as an independent state we will be ready to negotiate with Kiev about the coexistence on a confederal basis. But it will be possible only after Kiev will change not just the government but the entire ruling elite. The location of this greedy and corrupt elites — either on the dock or in exile", – said the terrorist.
According to him, the militants ready to negotiate with Ukraine, but not with the authorities.
"We understand that the war will end sooner or later talks about the principles of a hostel with Ukraine. Geography it is not canceled. And we are ready for such negotiations now. But Kiev is not ready for them. And this power is not. So the future is multivariate. And among these options there are as the peace talks and the war," – said Zakharchenko.
Earlier media reported that in the occupied Crimea presented the structurethat will engage in "integration of Donbas to Russian Federation." The Kremlin, meanwhile, has allegedly already lined up for the "nationalized" enterprises ORDO for new suppliers to replace the lost because of the blockade of the Ukrainian enterprises.
Comments
comments