"Give exhaustive testimony on this vysochana case." Lyashko assured that he come in for questioning NABOO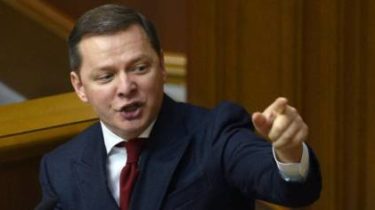 The leader of Radical party Oleg Lyashko said that will appear on the NABOO questioning regarding his probable illegal enrichment.
About this politician wrote on his page in Facebook.
"That gave me a new case, I knew last Thursday, I announced the NACB Sytnyk. We agreed that on Tuesday, April 25, at 11 o'clock I'll come to NABOO and give extensive testimony on this vimochana. He Sytnik asked me not to inform the media, to understand without political pressure," wrote Lyashko.
See also:
NABU has received a case concerning the illegal enrichment of people's Deputy Lyashko – Sytnik
He also added that on April 21 held a phone call with the head of SAP Nazar Holodnick, during which the latter Lyashko said that he was prosecuted for publications in the Network relative to its enrichment.
"On Friday, April 21, I also called the head of SAP Nazar Horodniceanu and expressed their outrage by certified action against me. Holodnitsky informed me that the case was filed for publication on the Internet about buying me a house that is a mere formality and that after giving me explanation the case will be closed", — said the leader of the "radicals".
See also:
In the NEB announced the withdrawal from Ukraine of space amounts: about 3 billion and more than 4 million euros
This Lyashko called an open case "the political order of the authorities."
"Violation of ARS against me of criminal proceedings is pure political order of the authorities. Head of SAP nazara Golodnitsky has a direct influence President Poroshenko and Russia's Prosecutor General Yury Lutsenko, who in January also filed a criminal case against me," — said the politician.
Recall that a Specialized anti-corruption Prosecutor's office referred to the National anti-corruption Bureau investigation on suspicion in illegal enrichment of people's Deputy Oleg Lyashko.
We will note that earlier it was reported that the MP from the Radical party, Oleg Lyashko bought a house and two plots of land worth 15 million in the town of Kozyn, Kyiv region. We are talking about the house of 550 square meters and two land plots with a total area of 0.6 ha.
Comments
comments