Near the Embassy of Lithuania in Kiev, unknown blew up a smoke grenade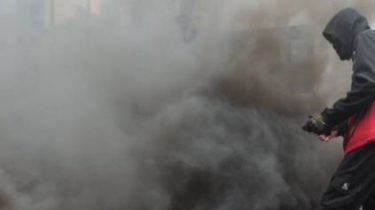 In Kiev unknown people threw on the road close to the Embassy of the Republic of Lithuania a smoke bomb.
It is reported by the police, reports espresso.
The incident was reported to the police yesterday at 00:45.
The fence 20 m from the entrance to the Embassy, the police found the remains of used smoke grenades "RGD-2H". During the inspection of the adjacent territory in the wasteland found the empty shell of a grenade "f-1". Found have already sent for examination.
Now the question about opening of criminal proceedings under part 4 of article 296 (Hooliganism) of the Criminal code of Ukraine.
The police identify the attackers.
See also:
The attack on the Consulate in Lutsk. As Russia is trying to embroil Poland and Ukraine
We will remind, in Vinnytsia military was lost, when you brag to your friends with a grenade. 20-year-old military pulled out of the bag the grenade, it fell from his hand and exploded. What this guy came all the force of the explosion. From injuries incompatible with life, the guy died on the spot. His companion and two civilian friends were injured – everyone in the body for 4-5 pieces, but no life-threatening.
Comments
comments