"Shouting, yelling and grandstanding". Holodnitsky accused Lyashko holding a show in SAP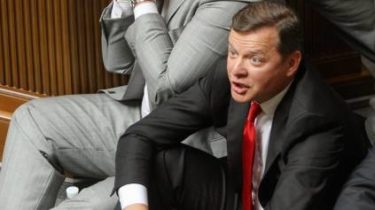 Chief anti-corruption Prosecutor Nazar Golodnitsky said that the leader of "Radical party" Oleg Lyashko put on a show and did not provide any information about your financial situation.
This was the head of the Specialized anti-corruption Prosecutor's office said, commenting on the visit Lyashko in SAP, reports Ukrainian Pravda.
"If there is a suspicion of illicit enrichment, then please show me a principled position – and provide information that refutes these facts. While doing these shows – I'm sure this show won't add a rating neither he nor his political force," said Holodnitsky.
According to him, Lyashko selected "shows and circus", but prosecutors and detectives of SAP NABS "will not be available to these provocations."
"He no information provided – it was some kind of recording on the A4 paper (written) with his own, such as rough copies… When will be the official Deputy appeal, outlining the facts and not just unfounded, then there will be a corresponding reaction. Yet it was just shouting, screaming and playing to the audience", – said the head of SAP.
Comments
comments