Auto OSCE almost blown up by the so-called "LC"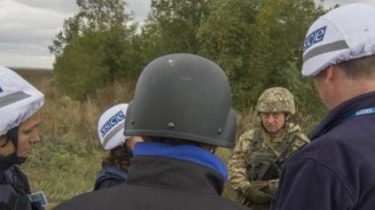 28 APR near the car of the Special monitoring mission of the OSCE, an explosion occurred. This happened in territories under control to fighters of so-called "LNR", says the report of the mission.
As noted in the OSCE, two armored vehicles of the mission were at the checkpoint so-called "LNR" close to occupied the Youth and talking with the armed gunman. At 12:17, when the observer was heading to his car, the gunman began to show them, so they quickly left. Being in the car at 12:20 observers heard an explosion and saw a column of black smoke in 50-100 meters from the car. No one was hurt, observers drove to its base in occupied Kadyivka.
On the same day at the observation post of the OSCE near the occupied a Steep Mountain about 10:35 members of the patrol heard shots fired from small arms in 40-50 meters away from their cars. All the members of the mission stood next to the car.
The report noted that observers have not found out for sure what kind of weapons and explosives were used, because immediately left the scene because of the danger.
We will remind, on April 23, in the explosion of the car of the OSCE near Prishib village in the occupied territory of the Luhansk region killed one member of the mission, two more got wounds. The mission said that six patrol moved in two armoured vehicles when the explosion occurred. The deceased was a citizen of great Britain Joseph stone. Also the explosion was shell-shocked citizen of Germany Willow Gmelin. In the OSCE surethat the explosion was no accident.
Comments
comments