"Joking, not to quarrel": the Russian media reported about the secret conversation Poroshenko and Putin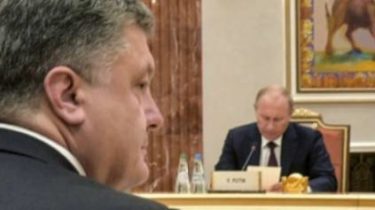 Between the President of Ukraine Petro Poroshenko and Russian President Vladimir Putin in the first half of April, a telephone conversation, which the parties decided to make public. The conversation lasted about 20 minutes and was devoted to the situation in the Donbas.
About it reports the Russian edition "Kommersant" referring to sources in Moscow and Kiev.
According to the interlocutor of the edition in Moscow, the conversation between Poroshenko and Putin was held in a "respectful correct key", presidents occasionally "passed on the playfully ironic tone".
"The presidents were forced to joke, not to quarrel and not to tell each other sharps,"— said the source in Moscow.
See also:
The participants of the "Normandy format" are ready to extend sanctions against Russia – Poroshenko
The Russian edition reports that the sides nothing was able to negotiate. The only issues on which it was promoting was "some of the humanitarian aspects".
The source of "Kommersant" in Kiev, close to the environment Poroshenko said that during a conversation it was about the exchange of prisoners, deliveries to the Donbass food, water and electricity on the Ukrainian payment of pensions to residents of uncontrolled territories. During the conversation, Poroshenko, Putin warned that if the militants will not extinguish debts for the electric power, the Ukrainian side will stop supply.
See also:
Ukraine ceased to supply electricity to the occupied territory of the Luhansk region
At the same time, the Administration of the President of Ukraine denies the fact of a telephone conversation between Poroshenko and Putin.
"The only conversation in April was held on 18 April in the channel format notified in a joint press release, four press-services", – stated in the AP in the comment "Ukrainian truth".
Recall President of Ukraine Petro Poroshenko, German Chancellor Angela Merkel, French President Francois Hollande and Russian President Vladimir Putin discussed by telephone the situation in the Donbass in the night of April 18.
A telephone conversation is that the usual channel four was not only a cease-fire. Discussed the issue of prisoners – exchange "all for all".
Comments
comments