OSCE observers stopped patrolling with drones in the ATO area.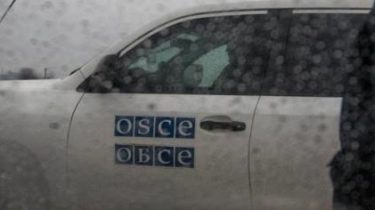 Observers of the OSCE SMM has stopped flying unmanned aerial vehicles and medium-range missiles in the Donbas.
This was stated by first Deputy Chairman of the SMM OSCE in Ukraine Alexander hug, writes UNIAN.
"Restrictions have reduced the geography of our patrol, and led to the termination of flights by our unmanned aerial vehicles medium range. All this implies that we are unable to monitor and report on the facts, including about the violations to the extent that we used to do" – he said, explaining that the observers had limited patrols in the Donbass after the explosion of a car of the OSCE occupied near Prishib village in the Luhansk region.
Hug also noted that last week was the fifth in a row, when observers saw a decline in the number of violations of silence regime in Donbas, however, the hallmark of the "conflict" is its unpredictability and instability.
"Last week we recorded a relatively low number of violations of ceasefire regime, however, the experience shows that it can change very quickly. In particular, last week the mission had not recorded any explosion of the Minsk agreements prohibited weapons in the area of the triangle Yasynuvata – Avdiivka, Donetsk airport. If we compare the situation in the same area in early February, when we recorded thousands of explosions on a daily basis, in one moment of that protracted slaughter may again return," he added.
See also:
The media published a video of the moment of the explosion of a car of the OSCE in Luhansk
We will remind, on April 23, in the explosion of the car of the OSCE near Prishib village in the occupied territory of the Luhansk region killed one member of the mission, two more got wounds. The mission said that six patrol moved in two armoured vehicles when the explosion occurred.
People's Deputy of Ukraine and member of the Board of the Ministry of internal Affairs of Ukraine Anton Gerashchenko said that the deceased was a citizen of great Britain Joseph stone. Agency Reuters citing the Austrian foreign Ministry reported that the victim worker, the OSCE was a U.S. citizen.
Also the explosion was wounded a German citizen Willow Gmelin. She was taken to a hospital in Lugansk, where she was provided medical assistance.
In turn, the first Deputy Chairman of the OSCE SMM Alexander hug believes that blowing up a patrol of the OSCE SMM in non-government controlled part of the Luhansk region on April 23 was not an accident, because cars were driving on the route, which was driving yesterday, besides the tragedy occurred on the road where they passed two hours earlier.
Comments
comments