"Representatives of LNR" came to Kiev-controlled territory, to verify the prisoners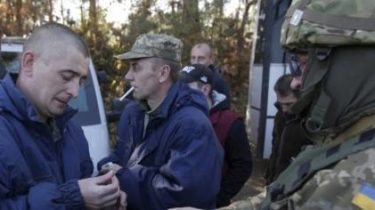 The so-called delegation of the self-proclaimed "LNR" came to Kiev-controlled territory to begin the process of verification (verification) of prisoners.
This was announced by the rebels controlled the online resource "PERSONS."
"Delegation "LC" consisting of three women crossed the checkpoint near the Village Lugansk", – stated in the message.
See also:
The Kremlin is preparing to take a new blow for the crimes in the Donbass
Earlier the representative of the "LPR" for humanitarian Affairs of the Contact group Olga Kobzeva reported that the Kiev at the last meeting of the subgroup agreed with the proposal of the militants "LNR" and "DNR" to conduct a verification of prisoners representatives of committees of mothers.
At the same time, in the comment to the edition "Ukrainian truth", the representative of Ukraine in the humanitarian sub-group Irina Gerashchenko said that Kiev-controlled territory of any "delegation LNR" is not allowed.
See also:
The exchange of prisoners in the Donbass can not be, as the separatists did not have the will.
According to her 28 April, the special representative of the OSCE TKG Martin Sajdik and the Ukrainian party stated that it has begun verification of prisoners, which brings together the OSCE, the security service, the office of the Ukrainian Ombudsman Valeria Lutkovska and a few mothers detained in Ukraine.
"There are no participants of the Minsk group in the group verification no. In Minsk to define clearly the composition of these groups. It involved the OSCE, the security service, office Lutkovska, and a few mothers detained for the crimes of individuals", she said.
Comments
comments