First, the sea. Gontareva told what to do after dismissal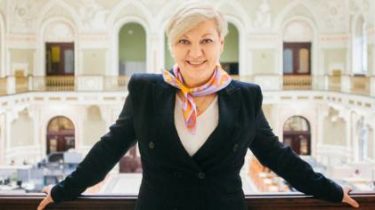 Today, may 11, at the head of the national Bank Valeria Gontareva first day of a protracted vacation. The NBU she promises never to come back – will have to wait until her resignation will satisfy the Verkhovna Rada. Says that Ukraine forever is not going to leave. Soon, soon going to sea.
About this hontareva told in an interview to "Interfax-Ukraine".
"Going for the summer with his family. I think I am for the summer months, decide what I want. I have been through in life and commercial banking, and investment and asset management, and private business, and head of the National Bank. This challenge (challenge) in my life, and I am aware of – will be gone. So I want now to think about what I want. I know that I'll never be in politics, never in the civil service. I sure don't want to work in the controllers, even in the world. Maybe this is some kind of scientific work or something. Or, in the end, I'm 53 years old and unable to retire", – said Gontareva.
By the way, last summer she spent with family on vacation in the Maldives, which could cost her a million hryvnia.
The head of national Bank does not exclude investigation of its activities in this position.
"The prosecution may be. Because the number of insinuations, provocations, stupidity, dirty companies – rolls. Should they worry about this? No. For a second I doubted that I did the right thing," – said Gontareva.
We will remind, today the national Bank has temporarily headed by first Deputy Gontareva Yakov Smoliy.
Comments
comments